STORY | SONGS | REVIEWS| CREDITS | CONTACT & LICENSING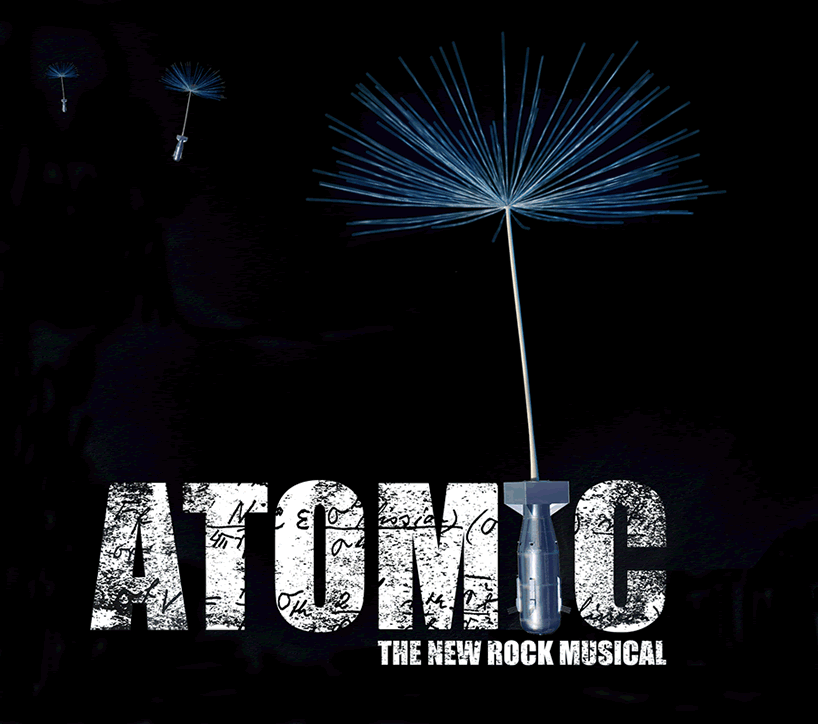 Book & Lyrics by Danny Ginges
Music & Lyrics by Philip Foxman

S T O R Y
A brilliant scientist flees Nazi Germany for America with an idea for a new weapon that might win the war – or lose it if Germany builds it first. All he needs do is convince the US Government to overlook his enemy alien status. And commit $2 billion to build a hypothetical weapon that may, or may not work. The scientist is Leo Szilard. His is the story of the bomb you only thought you knew.


S O N G S





R E V I E W S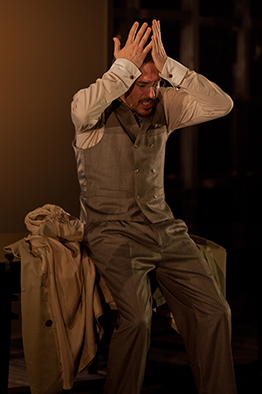 "If there's a tighter, more creative musical production anywhere in Australia this year, please lead me to it" - Stage Whispers (Sydney 2013)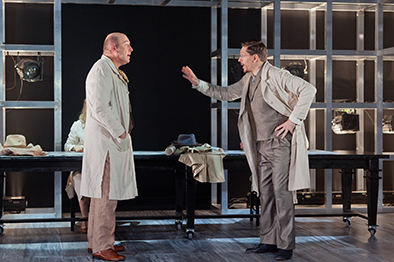 "This new musical does what the best of the genre does so well - revitalize ways of looking at the world" - Theatre Red (Sydney 2013)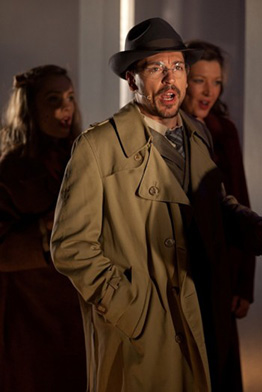 "I was completely won over" - Kevin Jackson Theatre Reviews (Sydney 2013)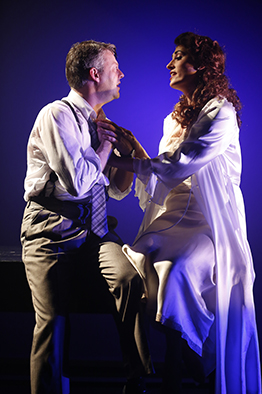 "Both interesting and moving... Philip Foxman's music is beautiful" - The New Yorker (New York 2014)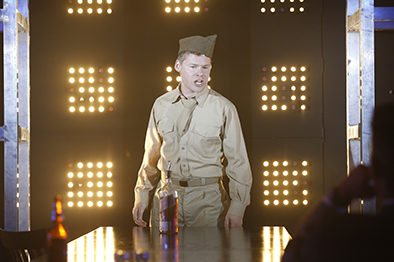 "Intelligent, thought provoking with a hot rock score that sizzles" - Times Square Chronicle (New York 2014)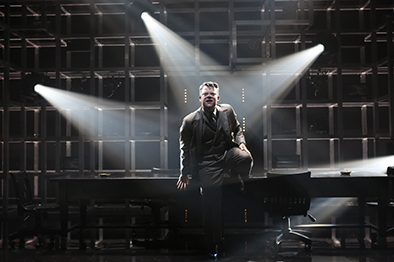 "Compulsively watchable... blows the roof off the theatre" - Theatremania (New York 2014)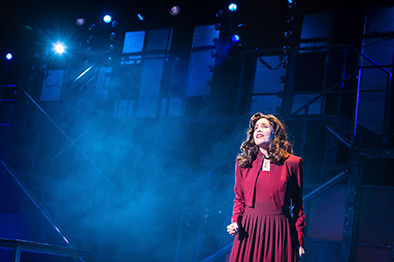 "The music and songs are exhilarating" - The Monitor (Michigan 2016)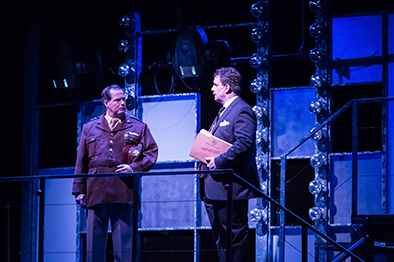 "A story most people should know and don't. Surprisingly good as a musical" - The Monitor (Michigan 2016)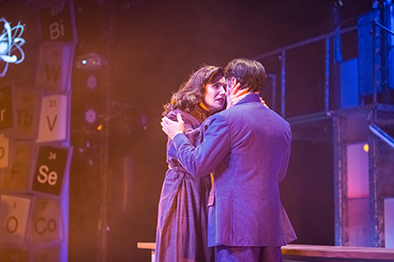 "Atomic is a deeply satisfying look at American History. The music is terrific" - Examiner (Michigan 2016)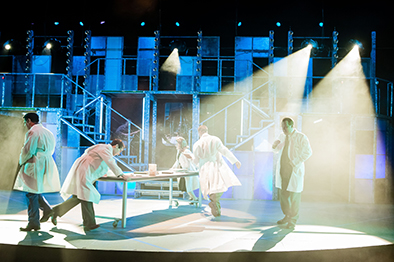 "It's a history lesson, it's a rock musical with a dramatic soundtrack, it's thought provoking and great entertainment" - Its All Theatre (Michigan 2016)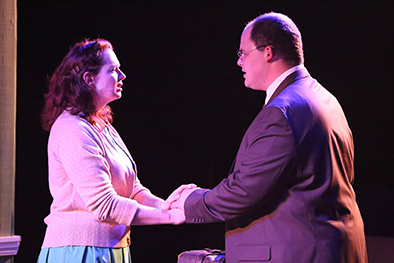 "A vibe usually seen at sporting events. A blistering standing ovation. 5/5." - criticalblast.com (St. Louis 2016)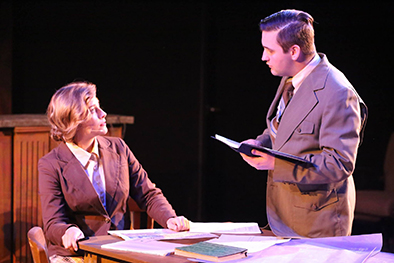 "Atomic is da bomb" - Stage Door St. Louis (St. Louis 2016)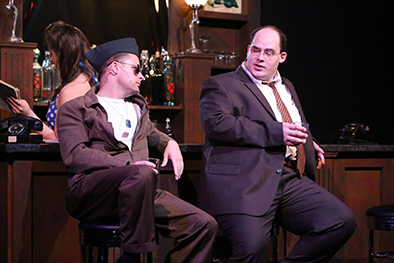 "Gripping, gritty stuff" - Ladue News (St. Louis 2016)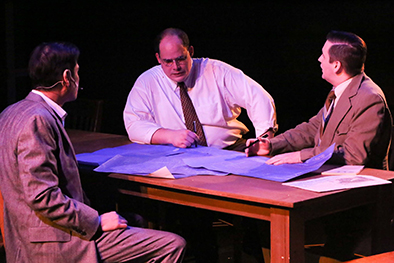 "It might be the most cerebral rock musical ever written" - St Louis Post-Dispatch (St. Louis 2016)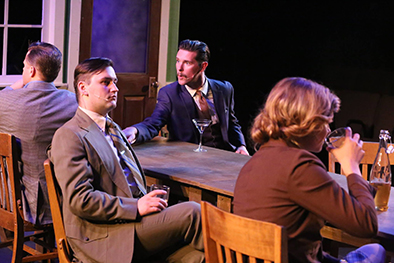 "Atomic is thrilling" - Riverfront Times (St. Louis 2016)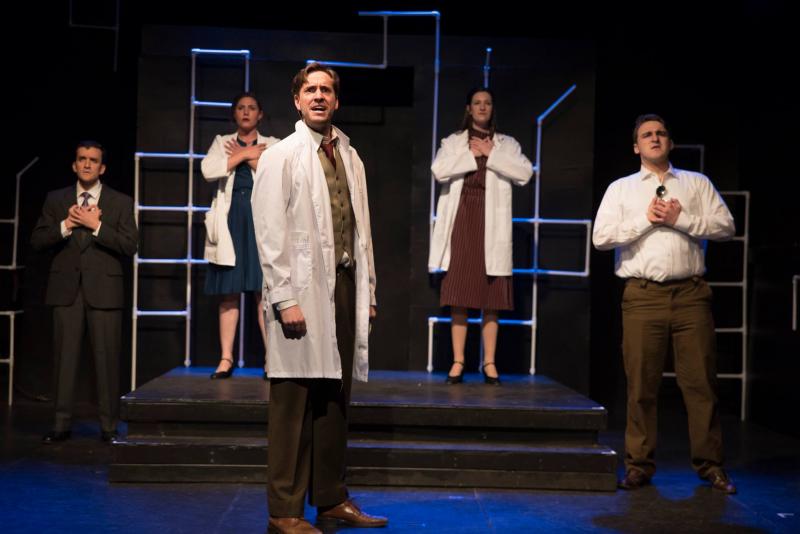 "Equinox Theatre Company has scored a direct hit" - Patric Dorn, Reviewer
(Denver 2018)

C R E D I T S
Book and Lyrics by Danny Ginges
Music and Lyrics by Philip Foxman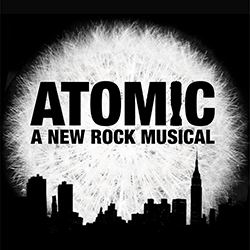 NIDA STAGED READING SYDNEY - February 28 & March 1 2013
CAST
Ric Herbert - Leo Szilard
Amanda Harrison - Trude Weiss Szilard, Ensemble
Rodney Dobson - General Groves, Lord Rutherford, Ensemble
Jay James Moody - Eugene Wigner, Robert J Oppenheimer, Ensemble
Blake Ericson - Arthur Compton, Ensemble
Julian Pulvermacher - Albert Einstein, Enrico Fermi, Ensemble
Lana Nesnas - Betty Compton, Ensemble

TEAM
Danny Ginges - writer, producer
Philip Foxman - composer, producer
Damien Gray - director
Ric Herbert - associate producer
Lana Nesnas - production manager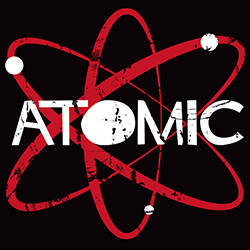 NIDA SHOWCASE SYDNEY - November 16-30 2013
CAST
Michael Falzon - Leo Szilard
Bronwyn Mulcahy - Trude Weiss Szilard, Ensemble
David Whitney - Enrico Fermi, Ensemble
Simon Brook McLaclan - J Robert Oppenheimer, Edward Teller, Ensemble
Blake Ericson - Arthur Compton, Ensemble
Lana Nesnas - Lucy, Ensemble
Christy Sullivan - Leona Woods, Ensemble

CREATIVES
Danny Ginges - writer, producer
Philip Foxman - composer
Damien Gray - director
Andy Peterson - md, orchestration, vocal arrangement
Larissa McGowan - choreographer
Neil Patel - set designer
Niklas Pajanti - lighting design
Michael Waters - sound design
Emma Kingsbury - costume design
Shannon Murdoch - dramaturg

BAND
Andy Peterson - MD/Keyboard
David Russel - Guitars
Eric Hutchens - Bass
David Manuel - Drums/Percussion
Elena Vershinina - Violin
Janean Lee - Cello
CREW
Keith Foote - production coordinator
Jack Horton - technical production manager
Mia Schack - stage manager
Liam O'Keefe - assistant stage manager
Ross Graham - assistant lighting designer and programmer
Anthony Love - sound Operator
Sarah Pickup - properties
Caitlin Newbury - wardrobre supervisor
Kar Chalmers - publicist
AKA - Advertising
Samara Kinney - financial controller, PA to the producer
Brooke Cooper Scott - costume assistant/buyer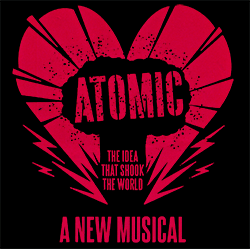 ACORN THEATRE NYC - June 26 to August 17 2014
CAST
David Abeles - Compton, Rutherford
Alexis Fishman - Leona Woods, Ensemble
Sara Gettlefinger - Trude Weiss
Jonathan Hammond - Enrico Fermi
Randy Harrison - Paul Tibbets/Edward Teller
Jeremy Kushner - Leo Szilard
James David Larson - Fritz, Ensemble
Euan Morton - J Robert Oppenheimer
Grace Stockdale - Mae, Ensemble
CREATIVE TEAM
Danny Ginges - Writer, Producer
Philip Foxman - Composer
Damien Gray - Director & Musical Staging
Julie Bleha - Assistant Director
Ashley Tata - Assistant Director
Lisa Timmel - Dramaturg
Greg Grahamn- Choreographer
Alison Solomon - Associate Choreographer
Neil Patel - Scenic Design
Cate Mcrea - Assistant Scenic Designer
David Finn- Lighting Design
Ross Brandon Graham - Associate Lighting Designer / Programmer
Jon Weston - Sound Design
Michael Waters - Original Soundscapes
Emma Kingsbury - Costume Design
David Mendizabal - Assistant Costume Designer
Faye Armon-Troncoso - Properties Design
Greg Meeh - Special Effects Design
Rob Green & J. Jared Janas - Hair & Wig Design
Stephen Gabis - Dialect Coach
Rick Sordelet - Fight Director


BAND & MUSIC
Andy Peterson - Music Director, Piano/Conductor, Orchestrations, Vocal Arrangements, Music Preparation
Cody Owen Stine - Associate Music Director, Keyboard, Guitar
Trey Files - Drums
Mario Gotoh - Violin
Enzo Penizzotto - Bass
David Matos - Guitar
Chrisopher Jahnke - Music Producer
Michael Keller - Music Supervisor
Michael Aarons - Associate Music Supervisor
Randy Cohen - Synth Programmer
Taylor Williams - Synth Programmer
Ryan Touhey - Music Preparation


CREW & PRODUCTION
Jamie Cesa - Executive Producer
Diane Alianiello - Company Manager
Billy Zavelson / Richard Kornberg & Associates - Press Representative
Howie Cherpakov - Casting
Production Core - Production Supervisor
Christine Catti - Production Stage Manager
Kelly Ruth Cole - Stage Manager
Amber Mathis - Production Manager
Katie Barnhard - Production Assistant
Angela Perez - Production Assistant
Casey Rowe - Assistant Production Manager / Head Deck Carpenter
Kate D'Andrea - Assistant Production Manager
Jeffrey Feola - Associate Company Manager
Josh Millican - Production Sound Mixer
Josh Staines - Deck Sound
Matt Walsh - Production Sound
Megan Lang - Special Effects assistant
Alison Mantilla, Bridgete Santaniello - Assistant Properties Designers
Joel Connelly - Master Carpenter
Zaire Baptiste - Production Carpenter
John Anselmo - Head Production Electrician and Head of Special Effects /Lighting Board
Michael Bert - Assistant Production Electrician
Dan Mullens - Assistant Special Effects
Katie Chai - Deck Crew
Laura Archer - Wardrobe Supervisor
Shanna Riker, Jessa-Raye Court - Wardrobe Crew
Victoria Nidweski - Spot Operator
Lauren Erwin - Prompter/Runner
Madison Gordon - Directing Intern
Silvana Ottavianelli - Costume Intern
Yaqi Zhou - Properties Intern
Alexander Irish - House Manager
Pia Cincotti, Alex Spiegel - House Staff
The Pekoe Group - Advertising, Marketing, Social Media, Website
Samara Kinney - Executive Assistant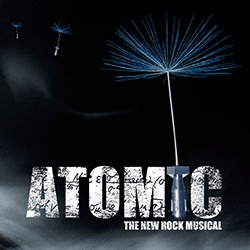 ATOMIC STUDIO CONCEPT ALBUM NYC - November 2015
Lyrics - Danny Ginges & Philip Foxman
Music - Philip Foxman
Vocal arrangements & orchestrations - Andy Peterson
Vocals - Michael Falzon, Bronwyn Mulcahy, 
Andrew Call, Jeanna de Wall, Pearl Sun
and Bradley Dean
Drums - Trey Files
Bass - Alan Stevens Hewitt
Guitar & mandolin - Dillon Kondor
Violin - Jonathan Weber
Cello - Alisa Horn
Keyboards - Andy Peterson
Sound Design - Taylor Williams
Produced by Philip Foxman
Executive Producer - Steve Margoshes
Creative Director - Damien Gray
General Manager - Cesa Entertainment
Recorded and mixed by Geoff Sanoff at Renegade Studios New York
Mastering - Benchmark Mastering
3D imagery - Heckler
Concept and album design by Danny Ginges with the creative guidance
of Graham Watson
Dedicated to Berel Ginges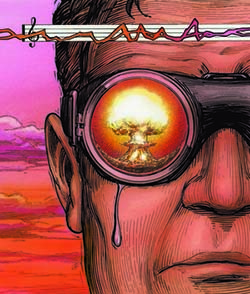 MEADOW BROOK THEATRE MICHIGAN - February 10 to March 6 2016
CAST
Ron Williams - Leo Szilard
Stephane Wahl - Trude Weiss, Laverne, Ensemble
Richard Marlatt - Enrico Fermi, Ensemble
Lucas Wells - Edward Teller, Paul Tibbets, Ensemble
Chip DuFord - Arthur Compton, Ensemble
Rusty Mewha - J Robert Oppenheimer, Ensemble
Katy Kujala - Leona Woods, Lena, Ensemble
Tobin Hissong - General Groves, Ensemble
Kimberly Alley - Mae, Ensemble, Understudy
Garett Michael Harris - Ensemble, Understudy
BAND
Andy Peterson - Music Director, Conductor, First Keyboard
Paul Clauson - Second Keyboard, Guitar
Sig Hepler - Guitar
Allison Rhoades - Violin
Joan Hovda - Cello
Timothy D Martuch - Bass
Nick Matthews - Percussion
PRODUCTION
Cheryl L Marshall - Managing Director
Travis W Walter - Artistic Director, Director
Andy Peterson - Music Director, Orchestrations, Vocal Arrangements
Terry W Carpenter - Associate Director, Stage Manager
Sarah Lin Warren - Assistant Stage Manager
Brian Kessler - Scenic Designer, Technical Director
Liz Goodall - Costume Designer, Costume Shop Manager
Reid G Johnson - LightingDesigner
Mike Duncan - Sound Designer
Sarah Lin Warren - Production Manager
Jeremy Burzuk - Head Stage Technician
Kristen Gribbin - Properties Director
Mary Pettinato -Cosume Shop Foreman
Lizzy Trawick - Head Wardrobe Technician
Ben Pfahlert - Scene Shop Foreman
William Douglas, John Wright - Scenic Carpenters
Gwen Lindsay - Scenic Artist
Reid G Johnson - Master Electrician
Daniel Morency - Assistant Master Electrician
Mike Duncan - Audio Engineer
Lauren Aquilina, Jasmine Radetski, Amy Skrodzki, Christa Tausney, Mary Winther - Interns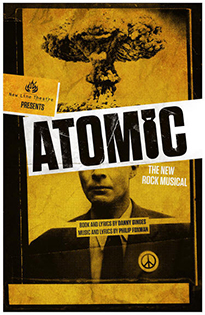 NEW LINE THEATRE - June 2-25, 2016
CAST
Zachary Allen Farmer - Leo Szilard
Ann Hier - Trude Weiss
Reynaldo Arceno - Enrico Fermi
Ryan Scott Foizey - Arthur Compton
Sean Michael - Edward Teller / General Groves
Victoria Valentine - Physicist / Bartender / Factory Girl
Larissa White - Leona Woods
Jeffrey M. Wright - J. Robert Oppenheimmer / Paul Tibbets
BAND
Jeffrey Richard Carter - Conductor / Piano
D. Mike Bauer - Guitar
Adam Rugo - Guitar / Keyboard
Eric Bateman - Cello
Jake Stergos - Bass
Twinda Murry - Violin
Clancy Newell - Percussion
PRODUCTION
Scott Miller, Mike Dowdy - Directors
Jeffrey Richard Carter - Music Director
Michael Juncal - Stage Manager / Lighting Technician
Rob Lippert - Scenic & Lighting Designer
Sarah Porter - Costume Designer
Benjamin Rosemann - Sound Designer
Kimi Short - Props Master, Box Office Manager
Patrick Donnigan, Gary Karasek, Melanie Kozak, Kate Wilkerson - Scenic Artists
Kathleen Dwyer - Nuclear Physics Consultant
Alison Helmer - Volunteer Coordinator
Matt Reedy - Graphic Designer
Kyle Jeffery Studios - Videographer
Jill Ritter Lindberg - Photographer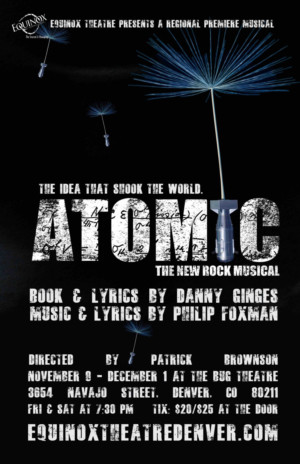 EQUINOX THEATRE, DENVER - Nov 9-Dec 1 2018
CAST
Brad Wagner - Leo Szilard
Holly Dalton - Trude Weiss
Colin Roybal - Enrico Fermi
Kevin Leonard - Arthur Compton
James Bloom - Edward Teller
Kate Moreland - Leona Woods
Jack Mariotti – J. Robert Oppenheimmer
Jack Vaughn – General Groves
Kade Fritzler - Paul Tibbets
Kimberly Douglas - Laverne
Kellen Smith - Mae
BAND
Adam White - Conductor / Guitar II / Keyboard
Anna Sturtz - Keyboard
John Maldonado - Guitar
Erik Sabbeth - Bass
Gabe Maldonado - Drums
Momoko Shibuta - Violin
Joe Engel - Cello
PRODUCTION
Patric Brownson - Director
Adam White - Music Director
Christian Munk - Choreographer
Kevin Flomberg-Rollins - Assistant Director / Stage Manager
Colin Roybal - Set Design
Kevin Taylor - Light Design
Rachel Finley - Costume Design
Deb Flomberg-Rollins - Sound Design
Elle Gold - Sound Mixing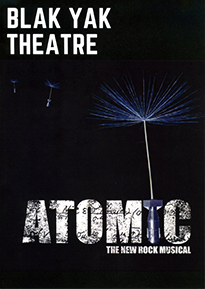 BLAK YAK THEATRE, PERTH - March 16-23 2019
CAST
Tom Hutton - Leo Szilard
Cassie Skinner - Trude Weiss
Oliver Clare - Enrico Fermi
Zac Bennet-McPhee - Arthur Compton
Matthew Manning - Edward Teller, Paul Tibbets
Therese Cruise - Leona Woods
Matthew Arnold – J. Robert Oppenheimmer
Mitch Lawrence – General Groves
Arianne Westcott-King – Ensemble
Chantel Bell - Ensemble
BAND
Joshua Haines - Piano / Conductor
Ruth Cook – Violin
Liza Kotze – Cello
Benjamin Anderson - Double / Electric Bass
Ben Griffin – Accoustic / Electric Guitar
Yasmin Omran - Violin (March 21)
Tommi Flamenco - Double / Electric Bass (March 21)

PRODUCTION
Lorna Mackie - Director
Joshua Haines - Music Director
Musical Assistant - Matthew Walker
Arianne Westcott-King - Choreographer
Christie Strauss - Production Manager
Mitchell Lawrence – Character & Accent Coach
Alex Coutts-Smith - Technical Manager
Injeong Hwang - Lighting Operator
Michael Mcallan & Matthew Ward - Set Design
Thomas Wendt - Stage Manager
Anita Telkamp - Stage Hand
Michael Mcallan - Photography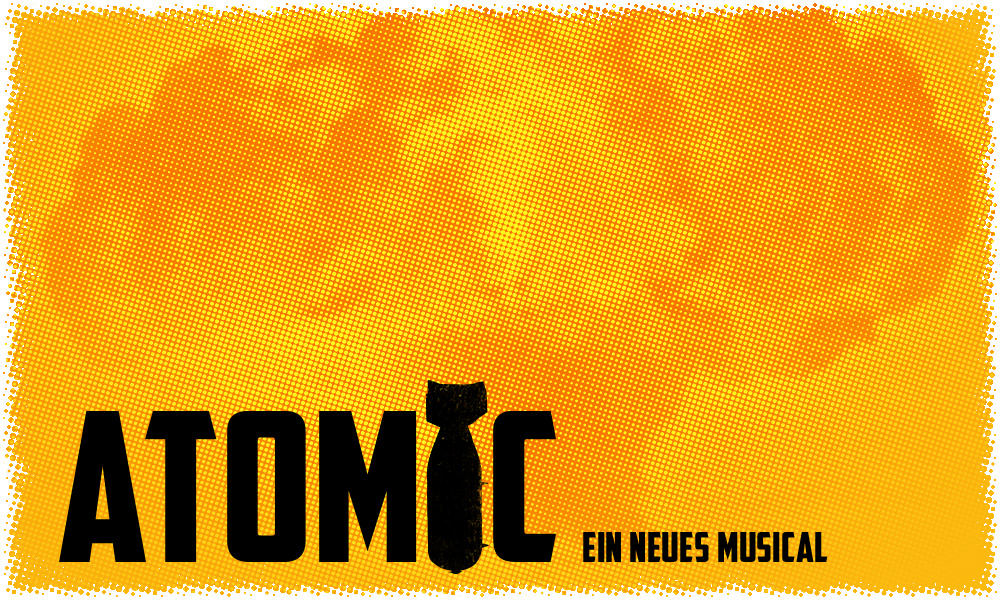 MUSICALGRUPPE DER GOETHESCHULE WETZLAR - July 21-31 2022
CAST
Felix Haus, Jonas Blahowetz - Leo Szilard
Merle Meier, Rebecca Kaufmann - Trude Weiss
Francesco Tallarico, Nils-Patrik Gombert - Enrico Fermi
Leonard Szabo, Oliver Huttel - Arthur Compton
Daniel Leichner, Robert Holtmanns - Edward Teller
Daniel Leichner, Robert Holtmanns, Manuel Christill - General Groves
Johanna Timmer, Pauline Müller - Leona Woods
Oliver Huttel, Gregor Reuscling – J. Robert Oppenheimmer
Nils-Patrik Gombert, Manuel Christill – Paul Tibbets
Amélie Steins, Angelina Rohovsky, Celina Enns, Eva Tiedmann, Franziska Feth, Karina Wilner, Kyra Wagner, Larissa Steeger, Lea Viehmann, Lisa-Mary Rohovsky, Luna Rohrmann, Malena Krohn, Melina Ilge, Nadiya Leichner, Nike Göbel, Pia Weidemann, Romy Sukiennik, Svenja Fennel, Victoria Padberg, Zoé Kodura – Ensemble
Chantel Bell - Ensemble
BAND
Anna Redemann, Laura Melchior - Violin
Göran Unzner, Tabea Makat – Cello
Oscar Fritzche - Guitar
Martin Hammann - Bass
Till Viehmann - Drums
Momoko Shibuta - Violin
Joe Engel - Cello
PRODUCTION
Julian Goletzka - Director, German Translation
Mark Wiedermann - Director
Andreas Gerhard - Musical Director, Piano
Svenja Kugler - Choreography, Make-up, Production
Johanna Mai - Choreography, Marketing
Michel Honold - Lighting, Video Design, Set-design, Production
Paul Herman - Lighting, Video Design
Neils Dietrich - Sound Design, Technical Director
Johanna Hofmann - Costume Designer
Bettina Kühn - Choir Master
Annette Hecht - Singing Coach
Lisann Schenk - Assistant Director, Company Manager
Miriam Freitag - Production, House Manager
Simon Seibel - Musical Assistant, Piano
Vinzenz Schultz - Technical Production Assistant

SPECIAL THANKS


Writing a musical is a little like raising a child. It takes a village. There are many many people, on top of those listed in the credits, whose energy, talent and encouragement have fuelled Atomic. Here are some that rate a special mention:
Jack Feldstein, whose enthusiasm helped launch this whole project in the last days of the last century, and whose expertise and patience over many Skype chats helped shape the current draft. Jack is a genius writer, fastidious script editor and a friend without peer.
Ric Herbert, who read the first draft as a musical, organized the first few readings, sang countless demos, helped produce and starred in the first staged reading, and has never ceased in his encouragement.
David Spicer, ABC reporter and musical theatre guru, who has given guidance and support from the first draft to the latest.
Julie Eisenberg, singer, strategist, matchmaker and friend, all of which proved invaluable in bringing the writer and composer together.
Damien Gray, a human dynamo and creative wizard, who built the team and launched it to dizzying heights, directing both the Sydney Showcase and the Off-Broadway run, and who continues to guide and inspire.
Berel Ginges, who died a few days before rehearsals began on the Acorn production. His tremendous support began with the writer's first steps and has only continued to grow.
Leo's family, including Helen Weiss and Ann Costello as well as Leo's biographer, William Lanouette, who have been incredibly warm and supportive of the project.
Travis Walter and Cheryl Marshall of Meadow Brook Theatre Michigan, and Scott Miller of New Line Theatre St Louis, who very bravely agreed to license the revised draft before it had been tested on a live audience, and who have put their hearts and souls into getting this story on stage.
There are also a few books that deserve special thanks.
The New Family Physician (Standard Home Library) by Dr Herman Pomeranz and Dr Irvin S Koll, whose Chapter 37 - Protecting Yourself Against An Atomic Bomb - made the threat of nuclear war very real to the writer as a child.
The Making of the Atomic Bomb by Richard Rhodes, which satisfied an adult curiosity into how that weapon of childhood nightmares came to being, and first introduced the writer to Leo Szilard.
Leo Szilard: His Version of the Facts, edited by Spencer R Weart and Gertrud Weiss Szilard, which gave a shorthand account of Leo's war years with some wonderful insights into the mind behind The Bomb.
Genius in the Shadows by William Lanouette, the authoritative text on Leo Szilard, and a constant companion over the years spent writing and rewriting the script.
ABOUT THE CREATORS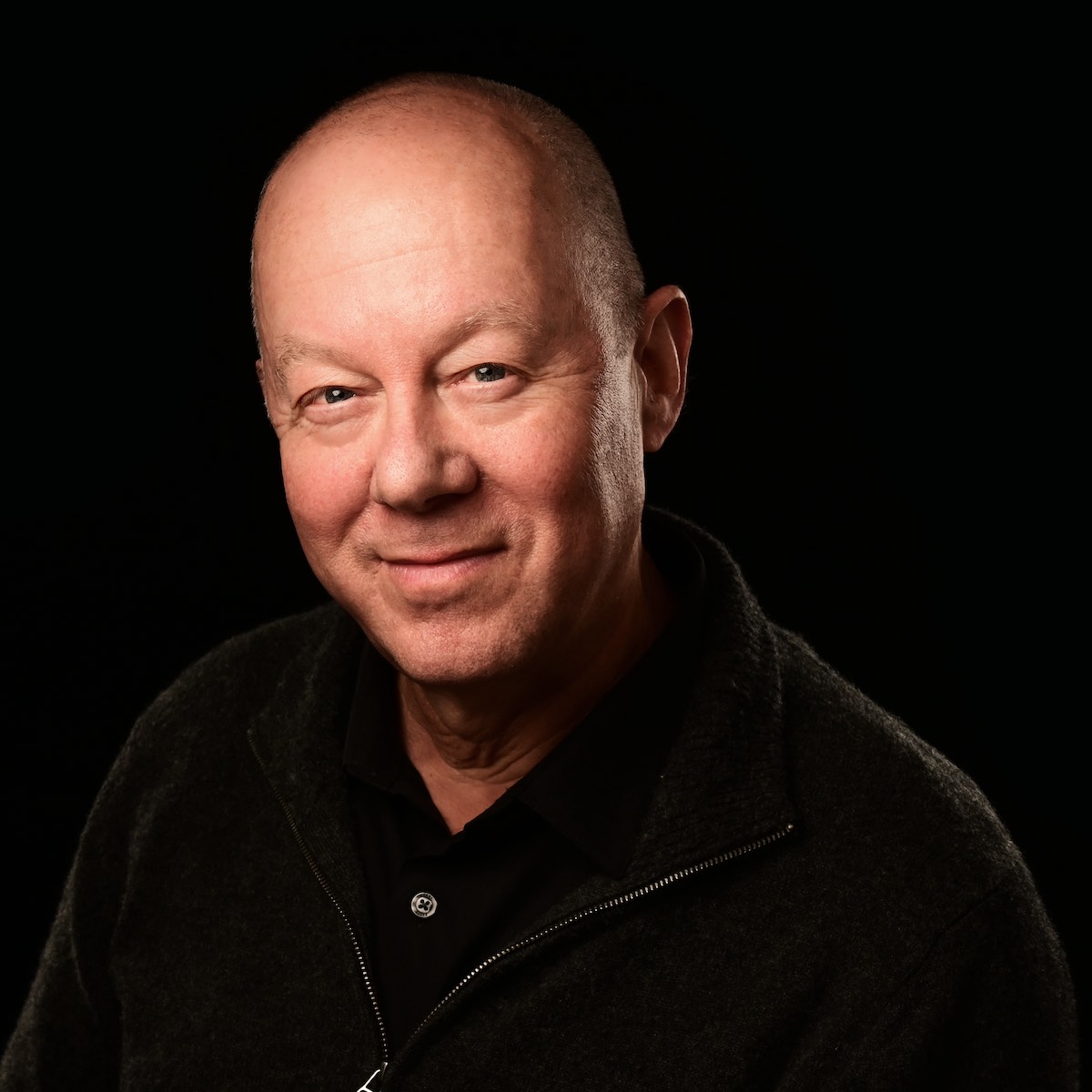 Danny Ginges has been copywriter, creative group head and creative consultant to leading advertising agencies including Saatchi & Saatchi, EURORSCG, JWT and BWM, with a long list of creative awards for his efforts. He might still be working in advertising today, but the story of the forgotten man behind the atomic bomb has rewritten him.





Philip Foxman started composing music as a teenager and has written, performed and recorded with Supernaut in Australia (Universal Records), Illustrated Man in the UK (Capital Records), as well as releasing two independent albums in New York, 'West 4th and Charles' with his band Prime 8 and 'Up Antenna' as a solo performer. He has composed and supervised music for independent films, television shows and commercials, as well as composing and writing for the musical The Ballad of Holly and Joey.

ORiGiN™ Theatrical Pty Limited
www.origintheatrical.com.au
Level 1, 213 Clarence Street, Sydney NSW 2000  Australia
PO Box Q1235, QVB Post Office, Sydney NSW 1230
Phone: (61 2) 8514 5201    Fax: (61 2) 9299 2920